The Year of the Cat
Year of the Cat designs are sensual and delicate combined with beauty and harmony. Cats also have a playful, strong and sneaky personality.
The use of Lunar New Year (Tet) imagery for labels, products and packaging has become incredibly popular as both gifts to take home or as gifts to send home if you are unable to make it (as it can be quite difficult now to get home for the New Year). Sending gifts to staff is also popular as a way to connect and send a message, particularly if they work remotely or will be going away for the festive period.  Popular gifts during New Year include Fruit Jams, Watermelon (or fruits), Wine, Cookies…and the ever popular candy!
colours and finishes
Overall, New Year designs usually reflect gold, red and dark blue, however some modern combinations are being used to present an alternate calmness and peacefulness or something that graphically challenges the usual styling. Adding embellishments like hot foil stamping, high build varnish and embossing can also create a more luxurious look and feel (even to gifts that are more economical).
add a label or sleeve

If you are making or sending products but don't want to change the base design, you can add a label sleeve over the top of existing products and designs. That way it adds to the product, and if designed well can be removed if it doesn't sell or is used during the festive period. 
personalise and customise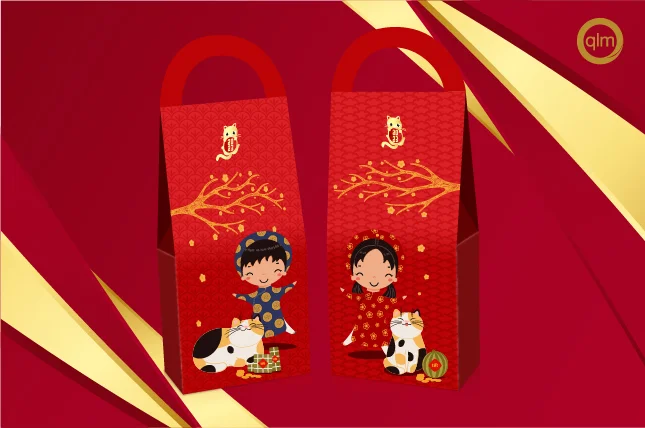 One of the most interesting ways for your company and gifts to stand out during the New Year period is to create customised designs and/or to use personalisation by adding individual names, company names or a specific message to recipients. Generic gifts tend to get less attention and don't necessarily connect with people in the way you may have intended.
stuck for ideas or looking for inspiration?
Our marketing team have a range of ideas and suggestions to make your New Year impression memorable. Be sure to contact us  now if you would like to discuss more.